Joel Blackstock
LICSW-S MSW PIP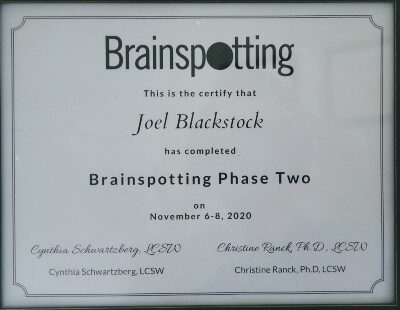 Joel is a Birmingham native and licensed clinical social work supervisor. He received his BA in comparative religion from Sewanee: The University of the South and his Master's in Social Work with adults and families from The University of Alabama. He was awarded the Master's Scholar award for his education at UA. Across his 10 year career he has run a youth program for adolescents, worked with geriatric memory care patients, and worked with a community mental health program in service of chronically homeless patients with schizophrenia and severe mental illness.
Joel's academic areas of study include mythology, world religions, depth psychology, trauma theories, philosophy, ancient history, and cultural anthropology; as well as the history and philosophy of psychotherapy practice. Joel uses his diversity of academic and professional experience in therapy through an eclectic integration of many techniques for growth, healing, and meaning. Joel believes that therapy must begin with a genuine appreciation for each patient's unique story and individuality.
Joel is an EMDR, Emotional Transformation Therapy Level 2 and Brainspotting Phase 2 trained clinician who often utilizes parts-based therapies and existential approaches. These help clients overcome problems in a non-judgmental environment with fast paced progress. Joel specializes in helping clients harness their own creativity and strengths to overcome barriers for growth and healing. When treating trauma, Joel uses a "trauma map" to allow patients to understand how trauma is affecting their emotional reality, physical sensations, somatic feelings, posture, communication style, and unconscious reactions. ​
In his personal life, Joel is an avid reader and home chef. He spends most weekends hiking and enjoying the outdoors with his wife and children. He is passionate about travel and exploring new cultures as well as new ways of being. In addition to working as a therapist, he also works as a photographer and writer.
Joel's  Specialties
○Jungian Therapy    ○EMDR    ○Brainspotting   ○Dissociative Disorders 
○Existential Therapy ○Somatic Therapy ○ Parts Based Therapy ○Shadow Work
Got a question for Joel? Send an email to [email protected]
NPI# 1790154490
SW License: 1489-4135C
"Neuroscience research shows that the only way we can change the way we feel is by becoming aware of our inner experience and learning to befriend what is going inside ourselves."
― Bessel A. van der Kolk,
The Body Keeps the Score: Brain, Mind, and Body in the Healing of Trauma
"Beneath the surface of the protective parts of trauma survivors there exists an undamaged essence, a Self that is confident, curious, and calm, a Self that has been sheltered from destruction by the various protectors that have emerged in their efforts to ensure survival. Once those protectors trust that it is safe to separate, the Self will spontaneously emerge, and the parts can be enlisted in the healing process."
― Bessel A. van der Kolk,
The Body Keeps the Score: Brain, Mind, and Body in the Healing of Trauma
"Trauma is not what happens to us, but what we hold inside in the absence of an empathetic witness."